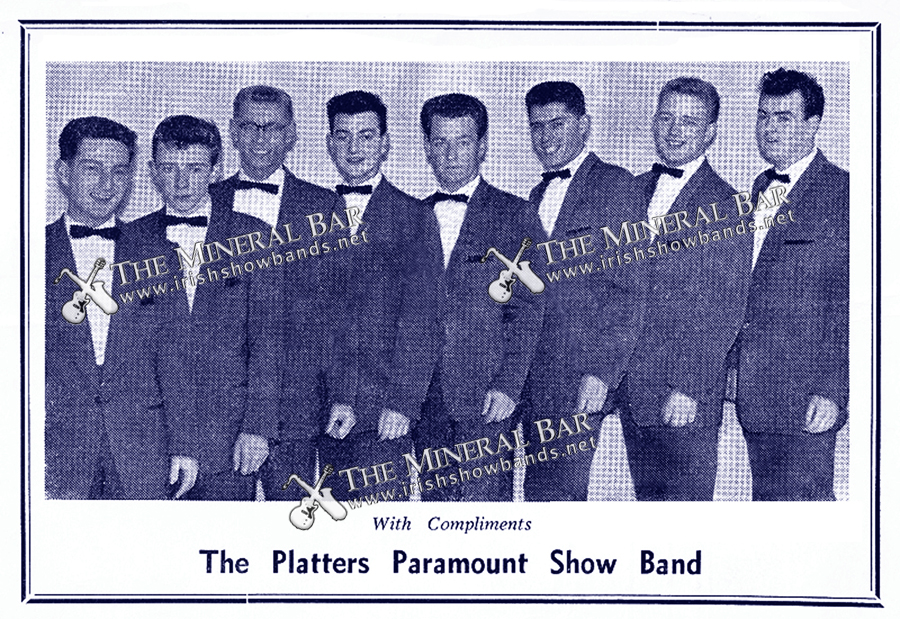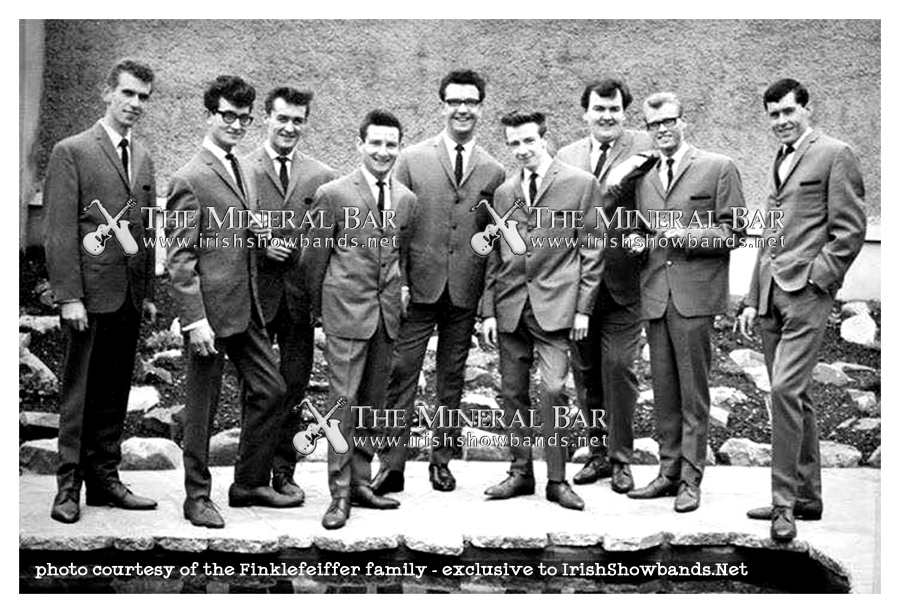 Based in Omagh, Co. Tyrone
Lead Vocals: Dave Thornton, Brian Coll, Simon Scott
Lead Guitar: Arty McGlynn, Alan McCartney
Bass: Seán 'Kingsize' Hamilton, Rob Strong
Sax/Clarinet: Pat Chesters
Trumpet: Ray Moore
Trombone: Billy McGinty, John Trotter
Drums:

Johnny Murphy,

Gerry McIlduff
Keyboards: Aidan O'Neill, Ivan Laybourne
Manager:
Discography: Scroll down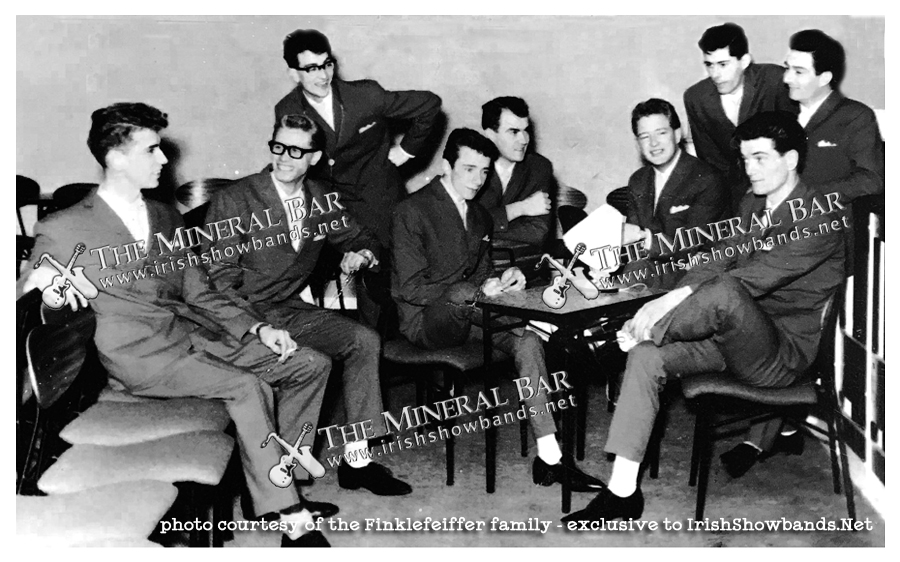 Omagh, Co. Tyrone was always proud of its band, St. Eugene's Brass & Reed Band. Young lads with an interest in music got a great musical education there, and many of them went on to join showbands. While at school at the local C.B.S. in the late '50s, four young musicians Pat Chesters, Leo Doran, Billy McGinty and Ray Moore formed a group and played at local dances. Within a few months they had acquired a following and there was demand for them to travel further afield. Naturally, their parents were apprehensive about their wish to turn professional, but their enthusiasm and love for their music eventually won their approval. Guitarist Arty McGlynn, bassist Seán Hamilton and singer Brian Coll were signed up and The Platters were on the road.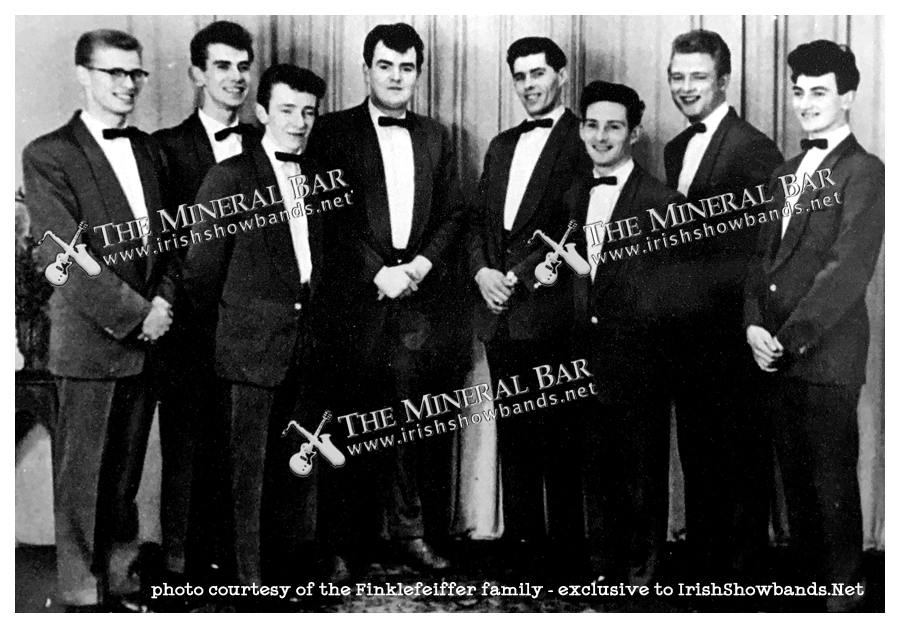 The Platters were renowned for their brass arrangements and their exciting versions of American soul numbers, though they also covered current chart hits and country songs. Their singer Brian Coll was featured on their first records with numbers such as "I'll Take You Home Again Kathleen", "The Rose Of Tralee" and an Irish version of the Roger Miller hit "England Swings" which they changed to "Ireland Swings".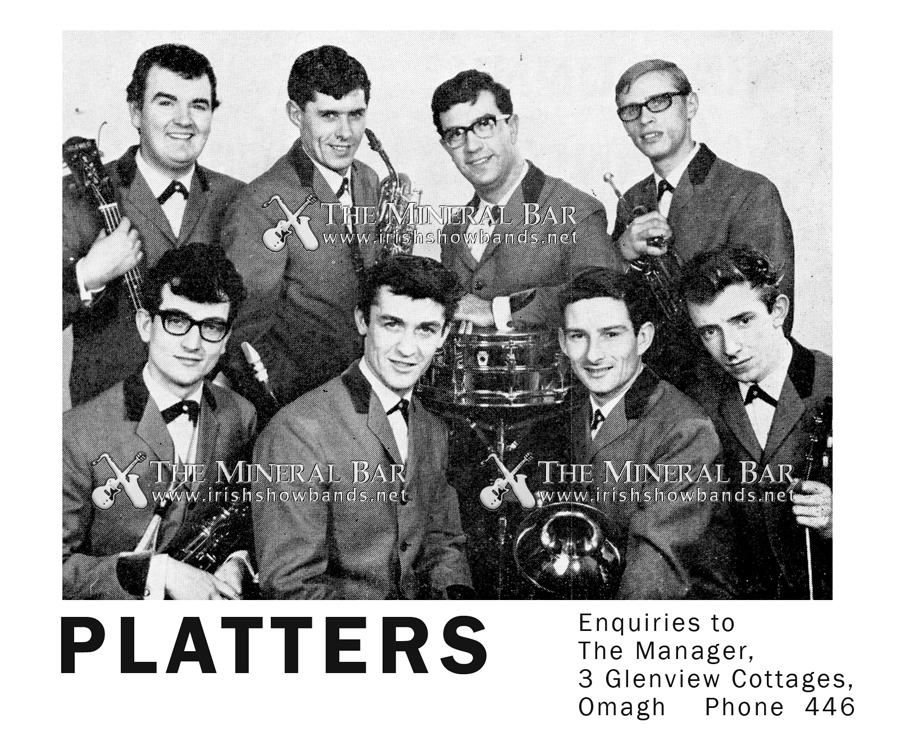 Because of illness, Coll stepped down in 1962 and was replaced by Dave Thornton, but having recovered, he later rejoined the band. When The Freshmen were being formed in Ballymena in 1962 by members of Billy McFarland's band, drummer Johnny Murphy was about to join them when an offer came in from Omagh and he joined The Platters instead.
The Platters made a number of T.V. appearances including "Band Date" on BBC and "The Showband Show" on RTE as well as broadcasting on RTE Radio's "Seventeen Club".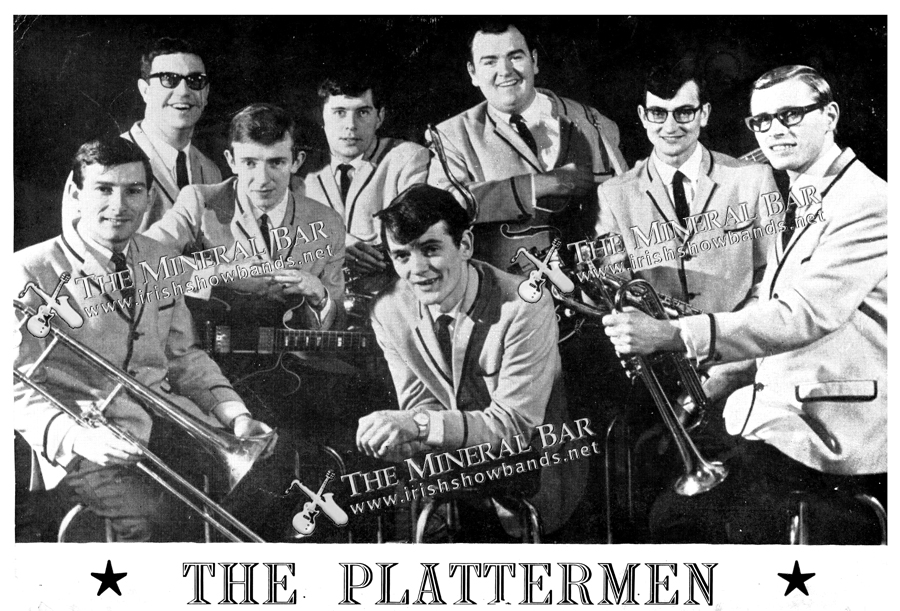 In 1965, Belfast promoter Jim Aiken took over the reins as manager, and the band changed their name to The Plattermen, mainly because there was a successful vocal group in the U.S.A. who shared their name. They embarked on two successful tours of the U.S.A. and like most showbands, played the Irish circuit in Britain during Lent. There were big changes both in the band's personnel and sound in 1967. Guitarist Alan McCartney and bassist Rob Strong joined the band. Strong, father of Andrew Strong who starred in the film "The Commitments" was a rocker with a powerful voice and performed numbers made popular by bands such as "Blood, Sweat & Tears" and "Chicago".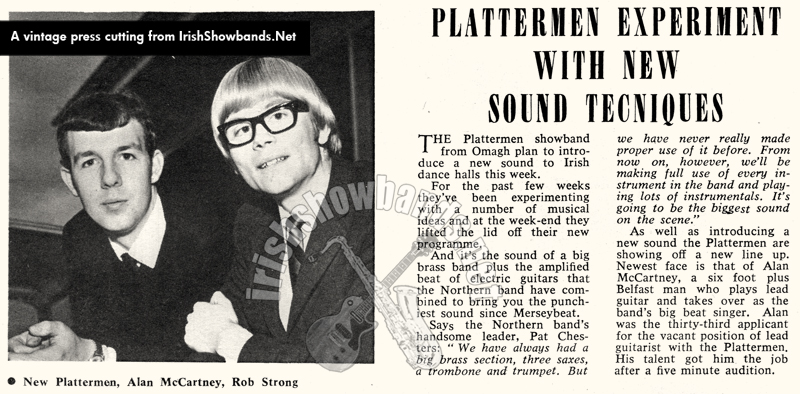 The band-suits were discarded in favour of casual clothes and The Plattermen became one of the biggest draws on the dancing circuit. Simon Scott took over lead vocals, Gerry McElduff came in on drums and John Trotter joined the band on trombone and violin. Their L.P. record is regarded as a classic and while other less-inventive showbands were disbanding, their change of direction definitely added years to their time at the top.
Some of the lads are still performing. Rob Strong has his own band which includes Ray Moore on Hammond organ. Arty McGlynn has carved a reputation in a wide range of musical genres, including traditional.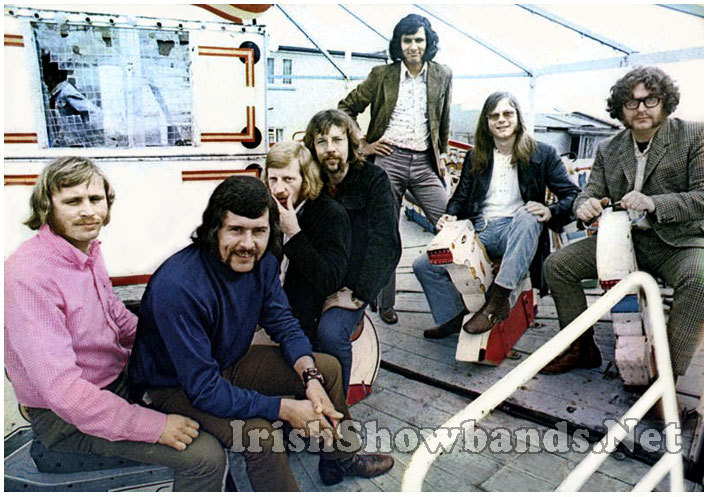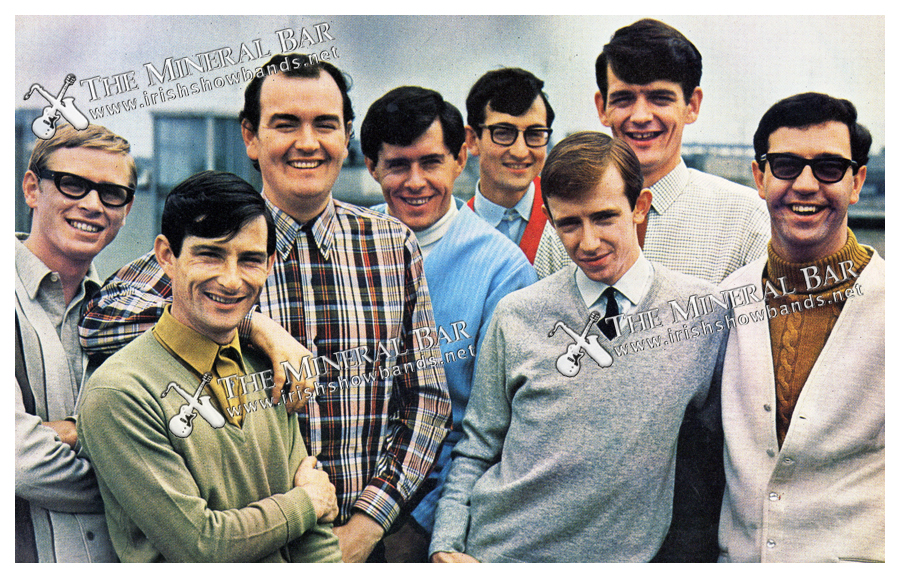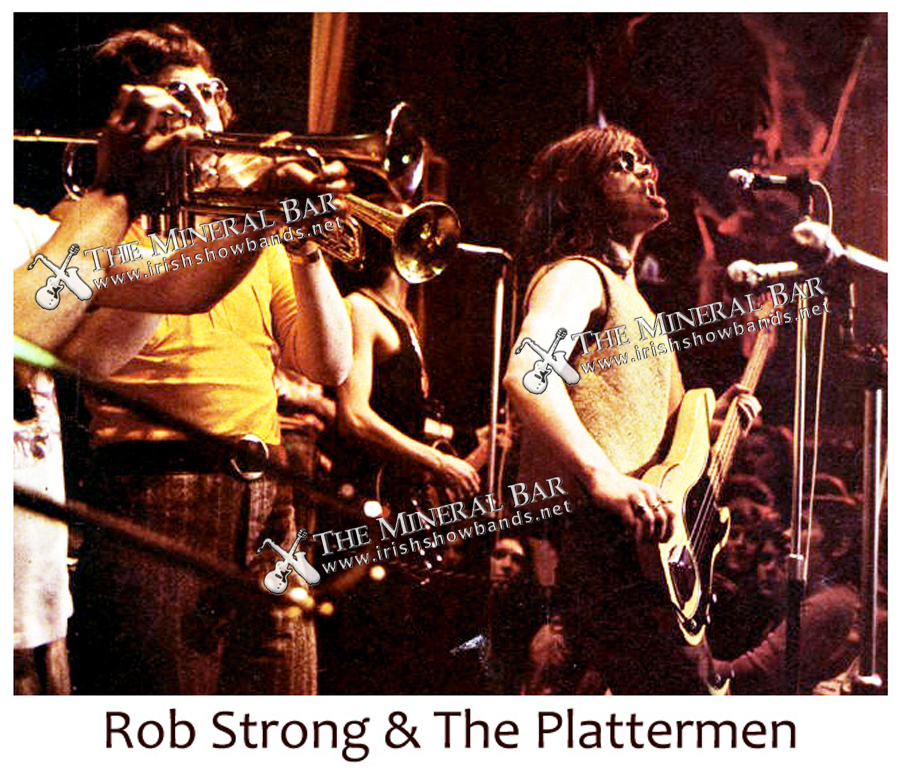 DISCOGRAPHY

Singles

1965:
I'll Take You Home Again, Kathleen / I'm In Love Again (Emerald MD1022)
1966:
Ireland Swings / I Ain't Cryin' Mister (Emerald MD1030)
Shake / I Got To Know (Emerald MD1048)
I'll Never Take You Back Again / (Sweetly She Sleeps) My Alice Fair (Emerald MD1055)
The Blazing Star Of Athenry / On The Banks Of My Own Lovely Lee (Emerald MD1057)
We'll Go To The Moon For Christmas / Cattle Call (Emerald MD1062)
1967:
Just Out Of Reach / Believe Me If All Those Endearing Young Charms (Emerald MD1071)
Life Turned Her That Way / Mary, Claire, Melvina, Rebecca, Jane (Emerald MD1085)
1968:
Whatever Makes You Think / Walk On By (Emerald MD1094)
1969:
Red Red Wine / Yesterday Girl (Dolphin DOS.20)
Yellow Van / Smiling Faces* (Dolphin DOS.54)
And When I Die / Or I'll Die (Dolphin DOS.65)
*The title should be 'Smiling Phases'

Albums (12" vinyl long-playing records):

1966: The Rose Of Tralee (Emerald ‎MLD15)

Life Turned Her That Way
Ireland Swings
Whatever Makes You Think
Just Out Of Reach
I'll Take You Home Again Kathleen
Cattle Call
Walk On By
I Ain't Crying Mister
Mary, Claire, Melvina, Rebecca, Jane
The Blazing Star Of Athenry
I'm In Love Again
I'll Never Take You Back Again

Re-issued in 1970 as 'Country and Western Favourites' (Emerald GES1035)

1972: Old Devil Wine (Dolphin DOL.1005)

Old Devil Wine
Play Today, Play Tomorrow
Julie
African Wah Wah
A Love Song
Gimme That Wine
Blue
Cat's Eye
Country Boy Blues
That's It
You Don't Love Me
Help Me Doctor Jesus
I'm Going Home
Tawny Wine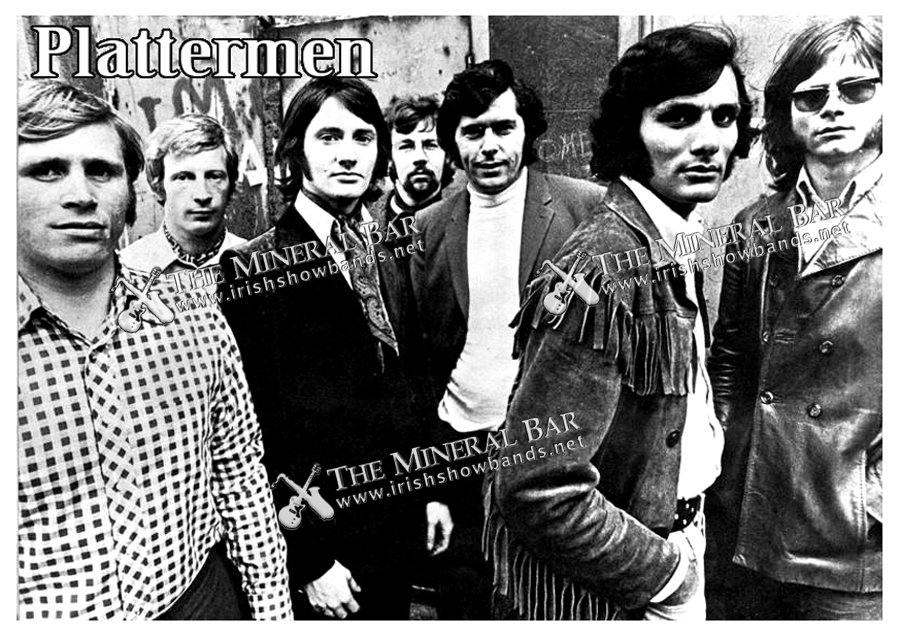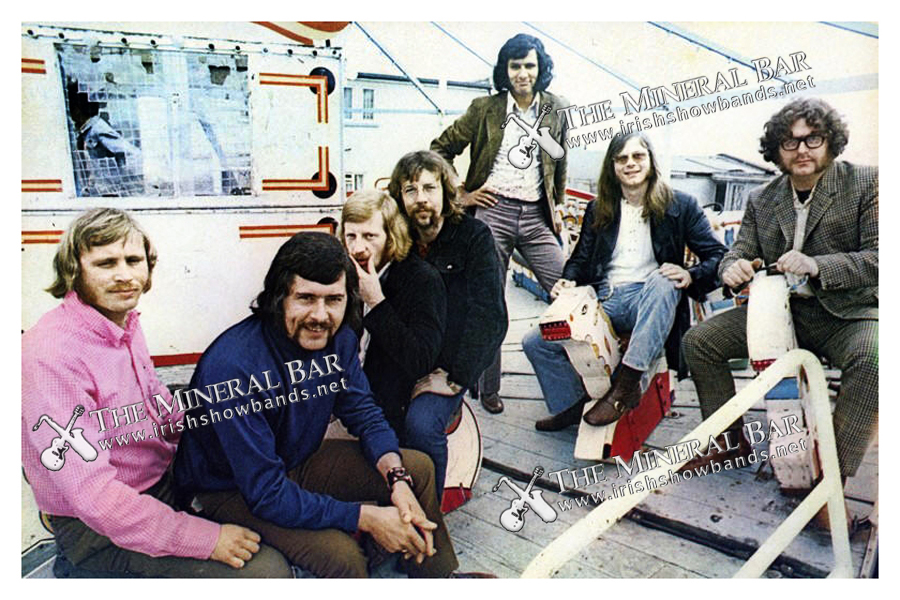 Gateway
| Showbands Home | Beat Home |
Contact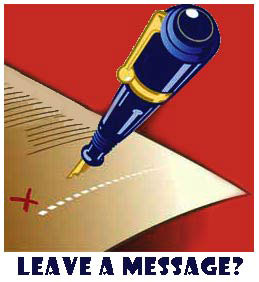 © francisk 2001-2018