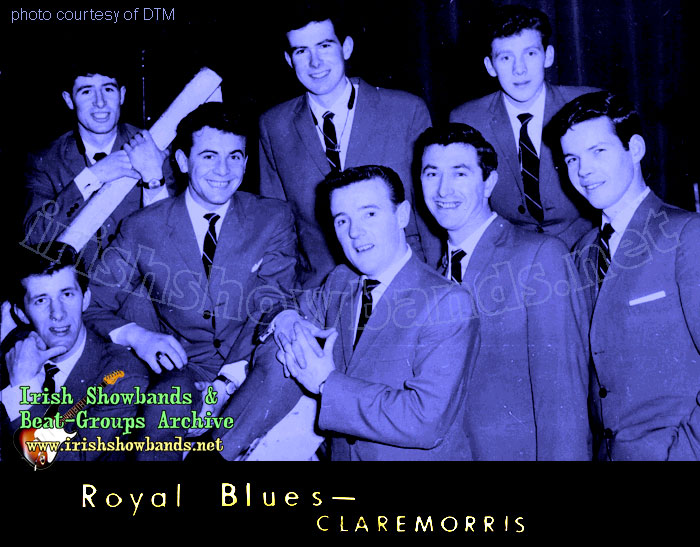 Personnel
Lead Vocals: Shay O'Hara, Joe Quigley, John Lord
Lead Guitar: Doc Carroll, John O'Brien
2nd Guitar: Brendan Arnold
Bass: Brian Carr
Sax/Clarinet: Frank Gill
Trumpet: Bobby Smith
Trombone: Vincent Gill, Paddy Lynch
Drums: Don Flanagan, Paddy Glynn
Manager: Andy Creighton
Managed by Claremorris businessman Andy Creighton, the Royal Blues Showband were one of the biggest names in the country, especially in the marquees of rural Ireland during the 1960s. Fronted for a time by country singer Shay O'Hara and later by guitarist Doc Carroll, they were successful both in the dance-halls and on record.
Based around four members of a Kiltimagh, Co. Mayo band known as Pete Brown and his Band of Renown, and dressed of course in royal blue suits, the band played a mix of chart numbers of the time and country music which went down a treat with dancers all over Ireland. Like most of the top showbands of that time, the band travelled to Britain regularly to play in venues on the Irish circuit, where they had a huge following.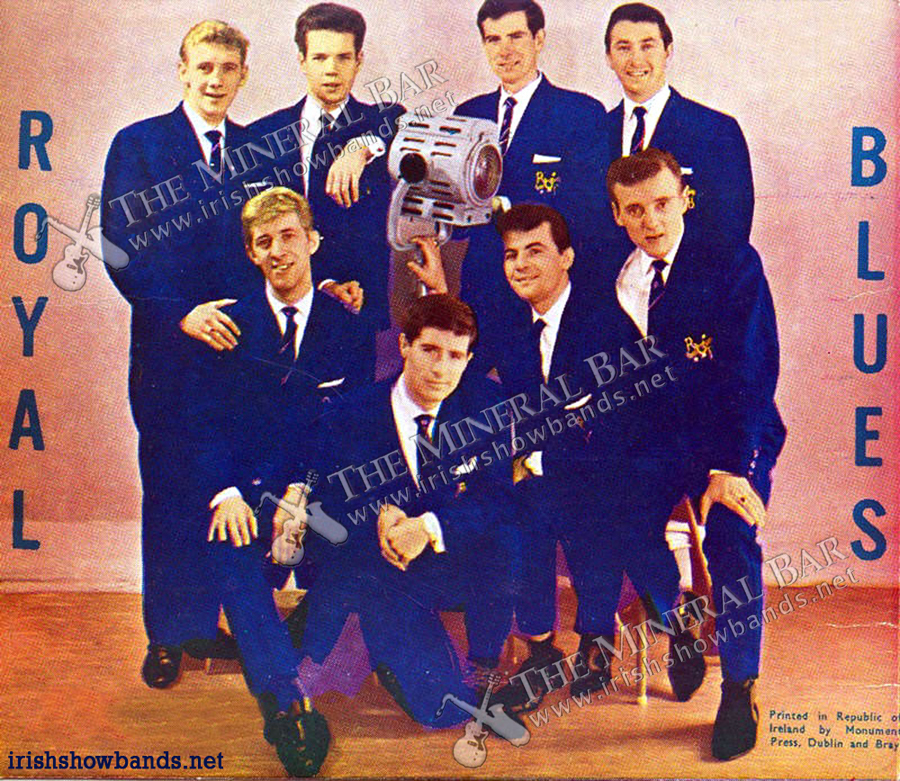 The Gill brothers Frank and Vincent, Doc Carroll and Shay O'Hara were joined by Bobby Smith (trumpet), Don Flanagan (drums), Brendan Arnold (rhythm guitar) and Brian Carr (bass), and astutely managed by Andy Creighton. In recent years Don Flanagan hit the headlines when as a Dublin taxi-driver, he went on hunger-strike to try and convince the government to change their decision on the deregulation of taxi-licences.
Manager Creighton always had an innovative marketing idea up his sleeve, and while other showbands were handing out pictures of the band after dances, the Royal Blues distributed individual photos of each member as well as band pictures.

On the recording scene, the band had a couple of minor hits featuring Shay O'Hara with songs such as "Love's Gonna Live Here" and "Santo Natale", but their biggest success came with the song which embodied the band's live punchy brass sound, "Old Man Trouble" sung by Doc Carroll. This record topped the Irish singles charts in 1966. Their follow-up, "Mendocino" a Doug Sahm* song, though not as successful in the charts, is widely regarded as one of the best showband recordings. They released one L.P. record, "In A Country Field" on the Pye Golden Guinea label in 1969. By then, Vincent Gill had left the band to be replaced by Paddy Lynch and Joe Quigley had replaced O'Hara who had joined the Premier Aces. He later emigrated to Australia.
Bobby Smith joined country band Buckshot, fronted by Bill Ryan and Doc Carroll formed the Nightrunners. Some of the band members stayed together and carried on for some time as the New Blues, fronted by Cork singer Glen Curtin who recorded one of Brendan Arnold's original songs "Amanda". Doc Carroll died in 2006. Frank Gill died in 2018.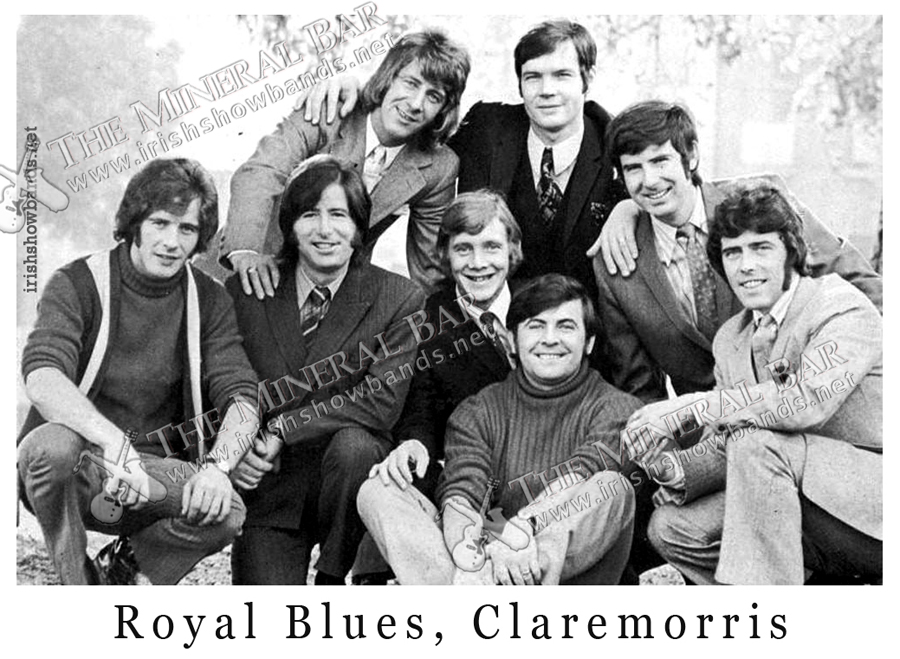 Discography (compiled by Eddie Kelly)
Singles (7"/45 r.p.m.)

1965: Love's Gonna Live Here / Little Rosa – Parlophone DIP 508 (vocals Shay O'Hara and Brendan Arnold)
1966: Old Man Trouble / You Never Know What You're Missing - Parlophone DIP 508
1966: Far Away From You / I Can't Go On (Rosalie) – Pye 7N 17166
1966: Santo Natale / Stop The World (And Let Me Off) – Pye 7N 17228 (vocals Shay O'Hara)
1967: There Goes (My Heart Again) / Another Bridge To Burn – Pye 7N 17360
1967: Croce D'oro (Cross Of Gold) / Here's A Toast To Claddagh – Pye 7N 17401 (vocals Shay O'Hara)
1968: You'll Come Again To Castlebar / Singing The Blues – Pye 7N 17565 (vocals Frank Gill)
1968: Mountain Of Love / Wishful Thinking – Pye 7N 17670 (vocals Vincent Gill)
1969: Mendocino / Hi Lee Hi Lo – Pye 7N 17732
1969: Proud Mary / Sunny Girl Friend – Pye 7N 17769 (vocals Brian Carr)
1969: High As A Mountain / Wildwood Flower - Pye 7N 17847 (vocals on "High" Brendan Arnold. "Wildwood" guitar instrumental by Doc Carroll)
1971: Slaney Valley / She's Leaving Town – Release RL 575 (vocals Frank Gill)
1971: Night Runners / Be My Guest – Release RL 586

L.P.s (12" /33.3 r.p.m.)

1969: In A Country Field - Pye Golden Guinea GGL 0449
The Royal Blues On CD

Santo Natale : The Irish Showband Collection – Pulse PBX CD 323
Far Away From You : The Irish Showband Collection – Pulse PBX CD 323
Wildwood Flower : Telstar! Instrumental Diamonds '58 – '77 – Castle CMDDD 583
There Goes My Heart Again : The Fabulous Irish Showbands – Castle Pulse PBXCD
476/3
Croce D'Oro : The Fabulous Irish Showbands – Castle Pulse PBXCD 476/1
Old Man Trouble : Nostalgic Celebration – Harmac
Proud Mary : Sham Rock – Castle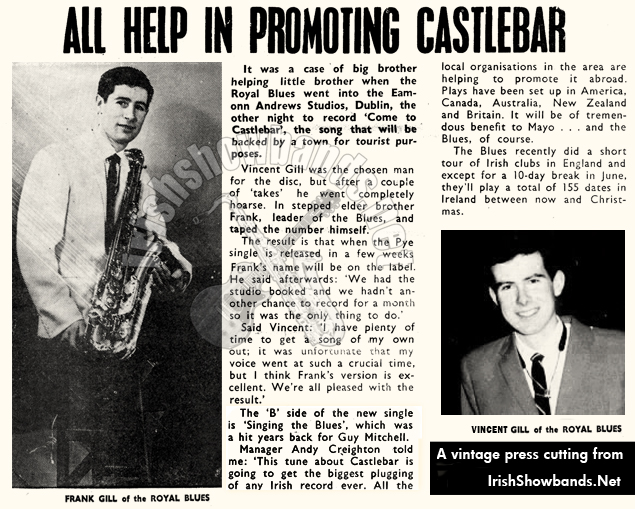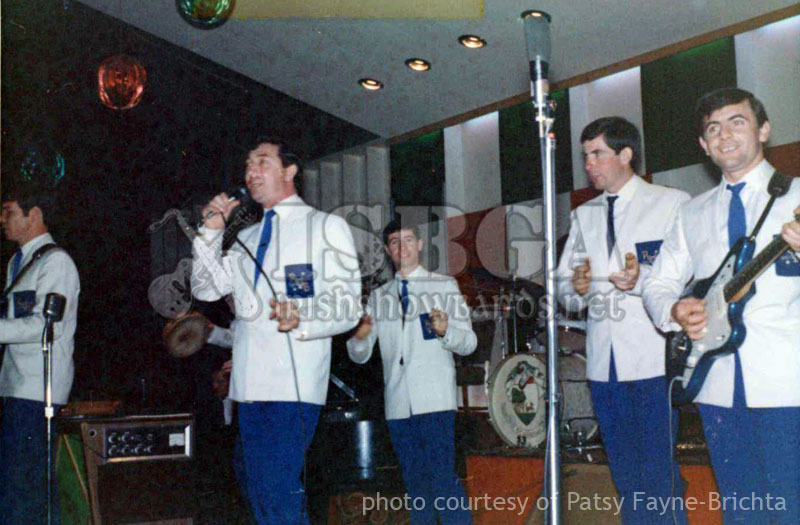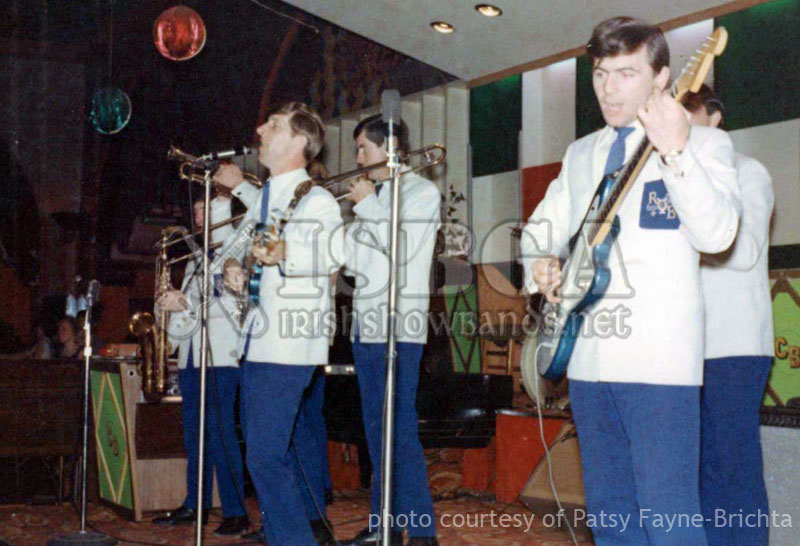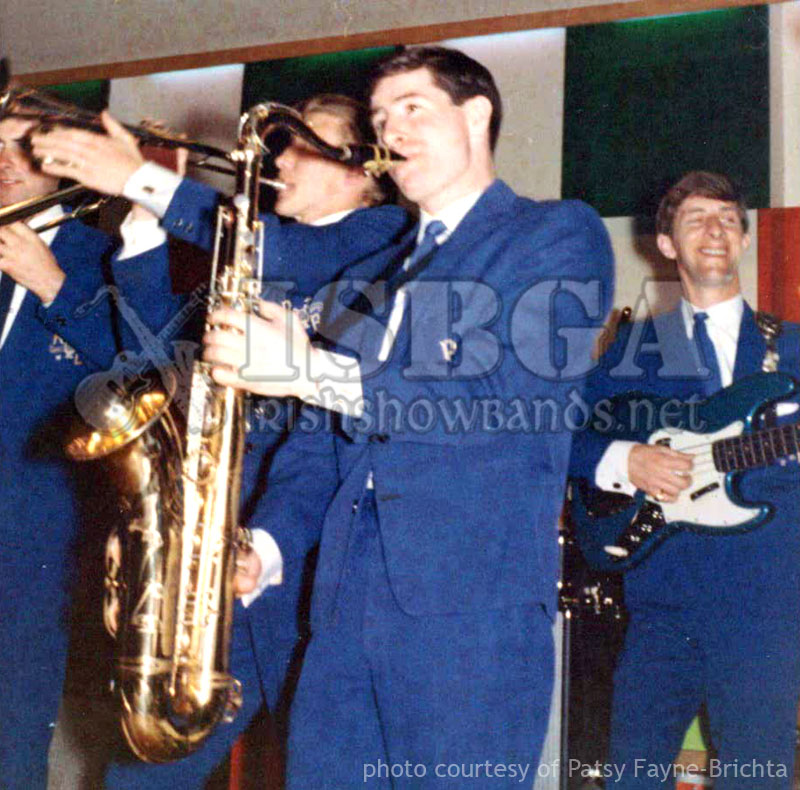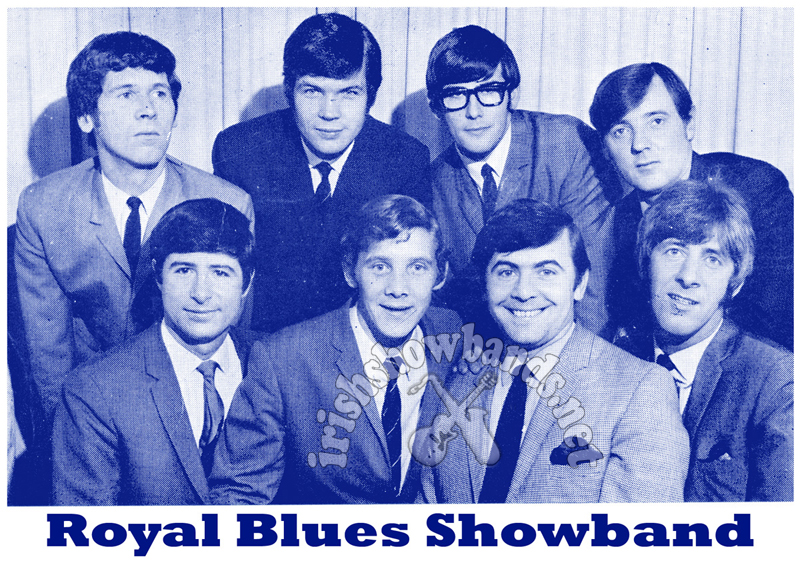 Gateway | Showbands Home | Beat Home | Contact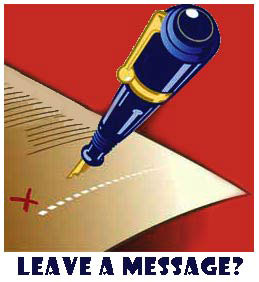 © francisk 2001-2012