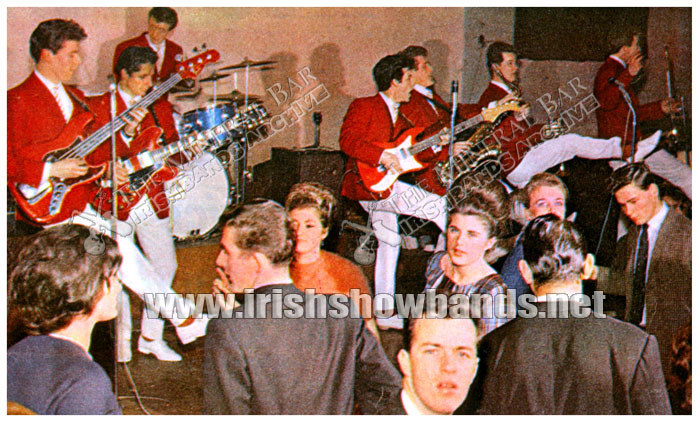 The Pacific showband was based in Dublin, Ireland
Vocals: Seán Fagan, Peter Law
Guitar: Jimmy Dumpleton, Dave Murphy, Paul Keogh, Dermot Woodfull
Bass: Harry Parker
Sax/Clarinet: Sonny Knowles, Jim Malone, Paddy Reynolds
Trumpet: Freddie Martin, Austin Halpin
Trombone: Seán Fagan
Drums: Marty Fanning
Organ/Piano: Shay Curran
Manager: Mick Quinn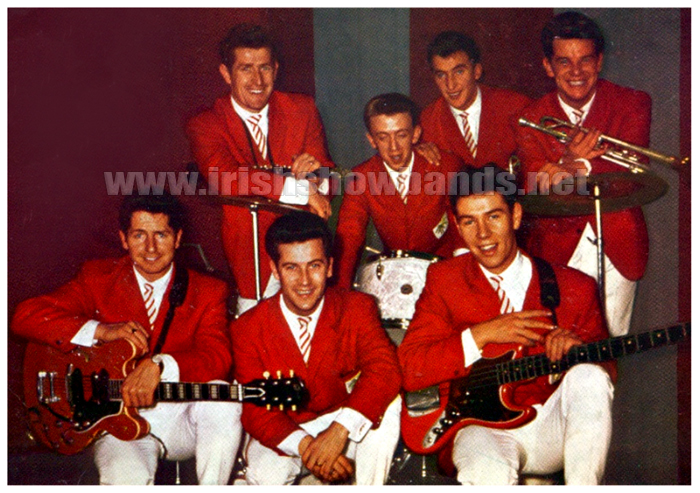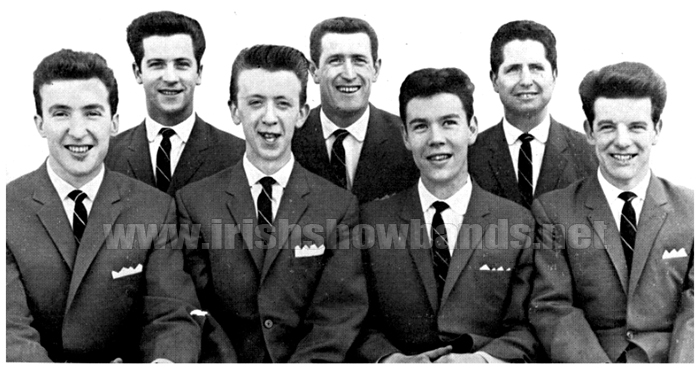 Formed around some members of Earl Gill's Orchestra, which in the late 1950s was resident band in Dublin's Metropole Hotel, and a group called the Royal Olympics, the Pacific Showband became one of Ireland's top showbands during the 1960s.
Trombonist and lead singer Seán Fagan along with saxophonist and vocalist Sonny Knowles, regularly had songs in the record charts, and the bright red blazers, smart white slacks and red and white striped ties became very well-known on stages throughout Ireland. Guitarist Jimmy Dumpleton also came from Earl Gill's band, and the line-up was completed by Cork trumpeter Freddie Martin, bassist Harry Parker, Shay Curran on keyboards/trombone and drummer Martin Fanning.
From 1964 to 1966, the Pacific scored a number of chart hits including "She Wears My Ring" and "Distant Drums" featuring Seán Fagan, "No One Will Ever Know" and "No One Knows" featuring Sonny Knowles and a duet "I Only Came To Dance With You". Fagan recorded songs in Irish for Gael Linn, including "An Tiún Agus Tú" and "Féirín Nollag" and Knowles sang a song called "The Menace From Ennis" in the National Song Contest. Managed by Mick Quinn, they launched a major marketing campaign in Britain in 1964, and were featured on the cover of New Musical Express along with the Capitol Showband in November of that year. They appeared on RTE's "Showband Show" and were voted in the top ten Irish showbands in the 1965 "Spotlight" readers' poll. The band have a unique place in Irish recording history as they are the only showband who are on record backing a singing nun! They provided the backing for Sister Mary Gertrude on her single "My Auld Killarney Hat" in 1965.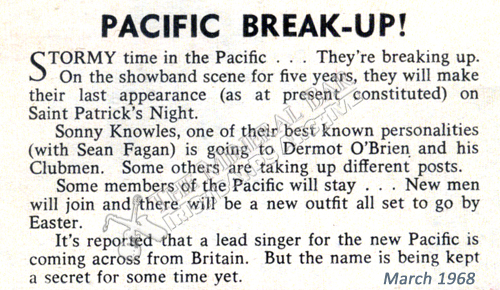 In the late 1960s, like most showbands, there were changes in the band. Sonny Knowles left to join Dermot O'Brien's band, Peter Law (Lawlor) from Naas came in as lead singer and the band decided to emigrate to Canada and changed their name to Dublin Corporation. Sonny Knowles went on to become a successful cabaret entertainer where he was known as "The Window Cleaner" because of his habit of moving his hand while he sang! He was resident singer on the popular RTE series "Live At Three" for a number of years. Seán Fagan is happily settled in Canada. Dermot Woodfull (formerly of Sugarshack and brother of John and Brian of The Casino/Indians) died in a motor accident in Canada. Peter Law passed away in 2016.
All text is strictly copyright of Irish Bands Archive - it is not to be copied without permission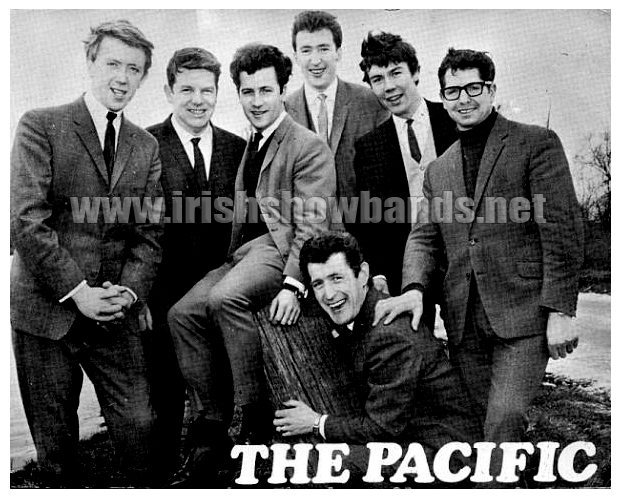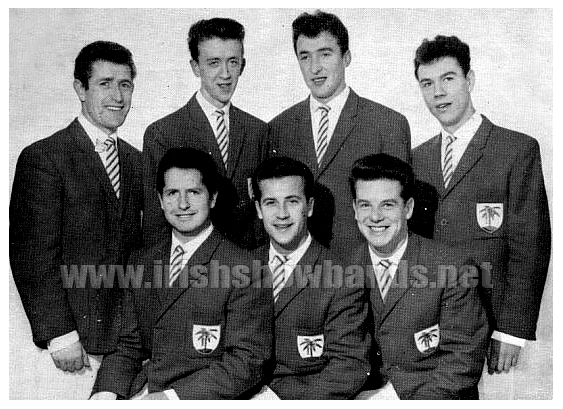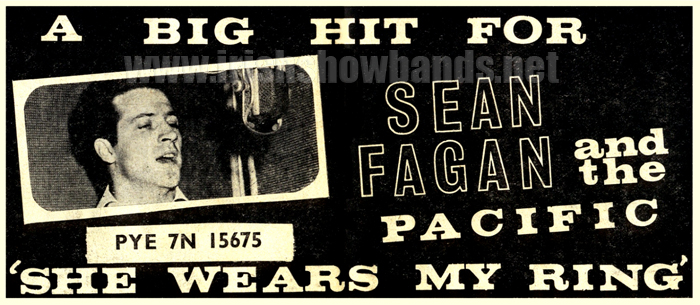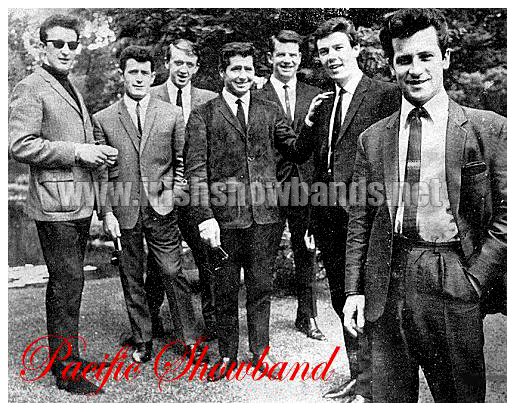 Selected Discography (compiled with the help of Eddie Kelly)
Singles (7"/45 r.p.m.)

1964: She Wears My Ring / Stand Beside Me - Pye 7N15675 (Seán Fagan)
1964: Distant Drums / Photograph To The Wall - Pye 7N15728 (Seán Fagan)
1965: My Auld Killarney Hat / Evening In Mount Melleray - Pye 7N15787 (Sister Mary Gertrude)
1965: No One Will Ever Know / If You Knew - Pye 7N15780 (Sonny Knowles)
1966: No One Knows / The Menace From Ennis - Pye 7N17115 (Sonny Knowles)
1966: I Only Came To Dance With You / Sleepless Nights - Pye 7N17165 (Seán & Sonny)
1965: What's The Use? / Do What I Want You To - Pye 7N15822 (Seán Fagan)
1965 We Could / When The Swallows Come Back To Capistrano - Pye 7N 15903 (Sonny Knowles)
1965: This Time / Just To Satisfy You - Pye 7N17002 (Seán Fagan)
1966: No One Knows / The Menace From Ennis - Pye 7N 17115 (Sonny Knowles)
1966: I Only Came To Dance With You / Sleepless Night - Pye 7N 17165 (Sonny Knowles & Sean Fagan)
1967: The Dublin Fusiliers / Edelweiss Pye 7N 17226 (Sonny Knowles)
1967: For He's A Jolly Good Fellow / She Thinks I Still Care - Tribune TRS 106 (Sean Fagan)
1967: My Jenny / Since I Don't Have You - Tribune TRS 110 (Sean Fagan)
1968: My Lovely Rose And You / I'll Remember You - Tribune TRS124 (Seán Fagan)
1968: The Long Black Veil / You'll Never Get The Chance Again - Major Minor MM545 (Peter Law)
1969: Remains To Be Seen / We Are Happy People - Tribune TRS 125 (Sean Fagan)
1969: My Mothers Eyes / Sunday Drive - Tribune TRS 128 (Peter Law)
1969: Ruby / Red Sails In The Sunset - Tribune TRS 131 (Peter Law)
1970: Momma's Waiting / Rollin' Common - Tribune TRS 140 (Peter Law)

L.P.s (12"/33.3 r.p.m.)

1969: Peter Law & The Sound Of The Pacific - Capitol ST6324 (also Tribune)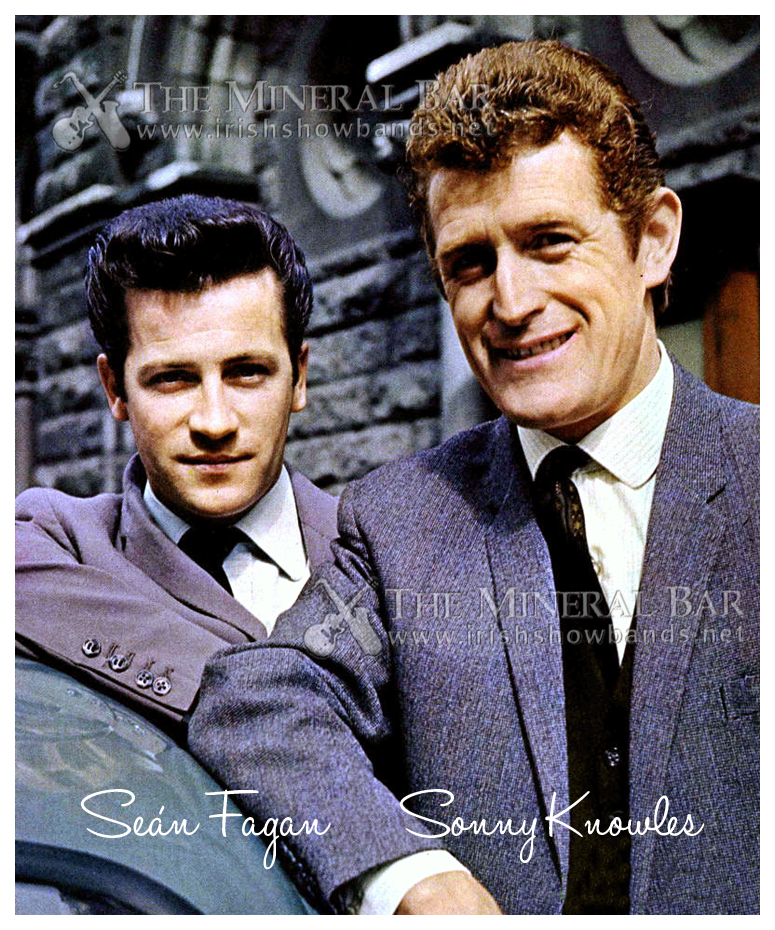 LISTEN TO SONNY AND SEÁN >>>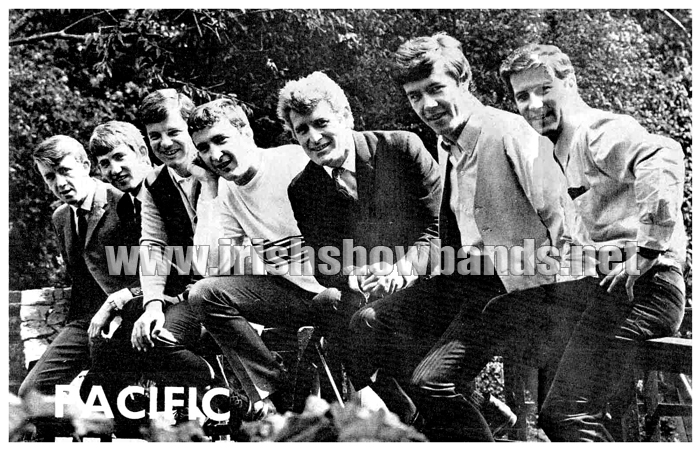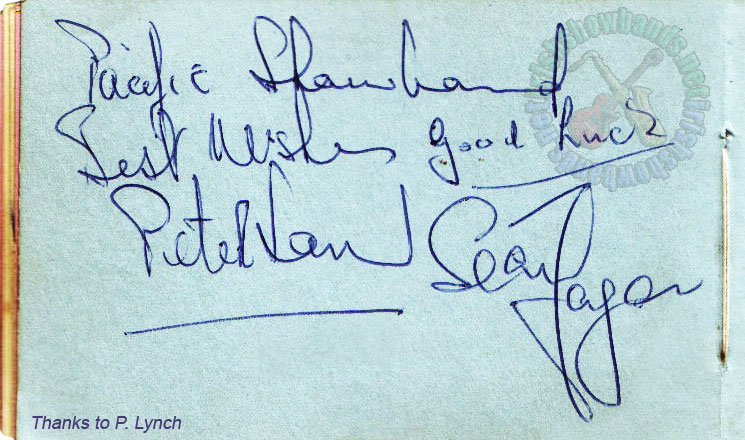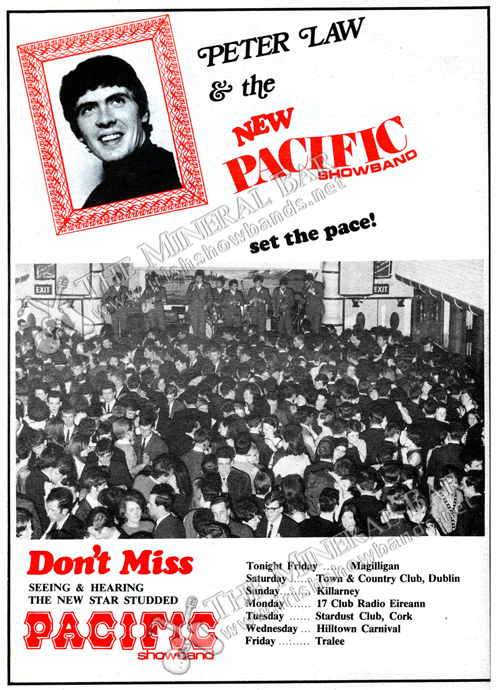 LISTEN TO PETER LAW >>>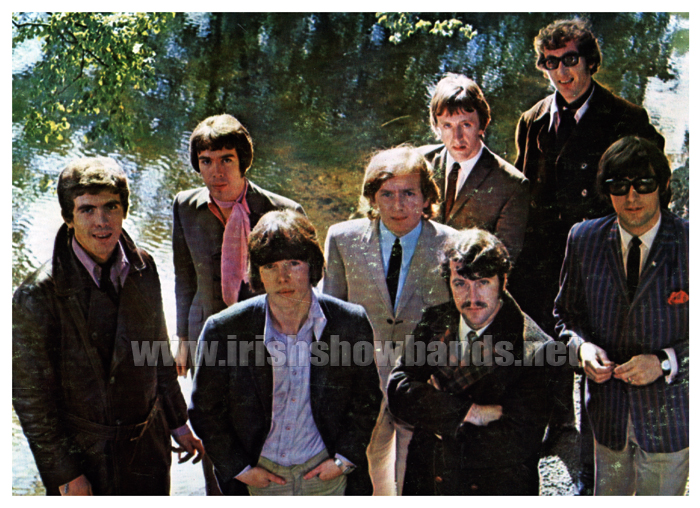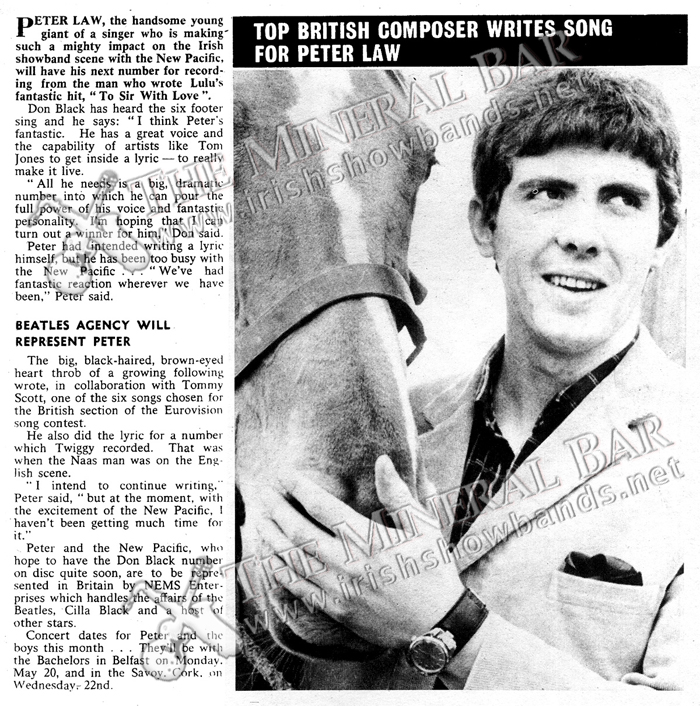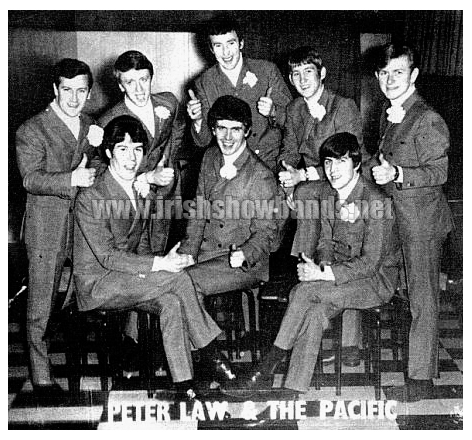 Gateway | Showbands Index | Beat-Groups Index | Ceili bands | Contact IBA
The Irish Bands Archive is an ongoing work in progress. Photos, cuttings, posters, adverts, line-ups, etc. to be added are always welcome and appreciated. If you have anything to contribute, please contact us.
© FBK | 2001-2020