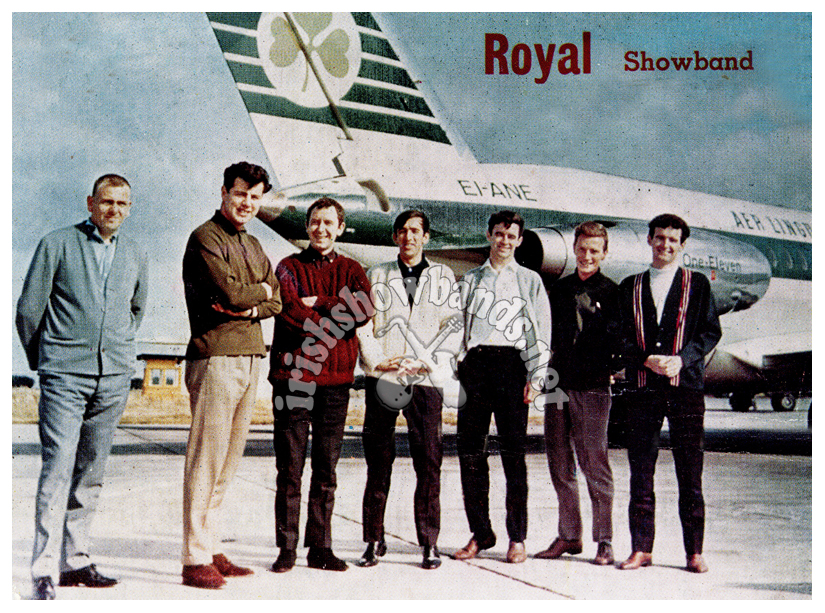 Waterford's Royal Showband were without doubt the leaders of the showband phenomenon in Ireland during the 1960s. They drew the biggest crowds, commanded the highest appearance fees, released the first showband record, had the first showband chart-topper and boasted Ireland's biggest star, Brendan Bowyer.
The story of The Royal Showband goes back to the mid-'50s, when Harry Boland invited a few local lads to join him and play some gigs at the Fisherman's Hall in Dunmore East. Michael Coppinger (tenor sax), Charlie Matthews (drums), Jim Conlon (guitar) and pianist Gerry Cullen were first to join and before long they were joined by Tom Dunphy on double-bass. The other members were Jimmy and Johnny Fardy.
At this time, Brendan Bowyer was learning trombone and was playing with The Rhythm Kings. Though coming from a household with a background in opera and classical music, the tall young man had recently discovered the music of Elvis Presley and was keen to share it with the world!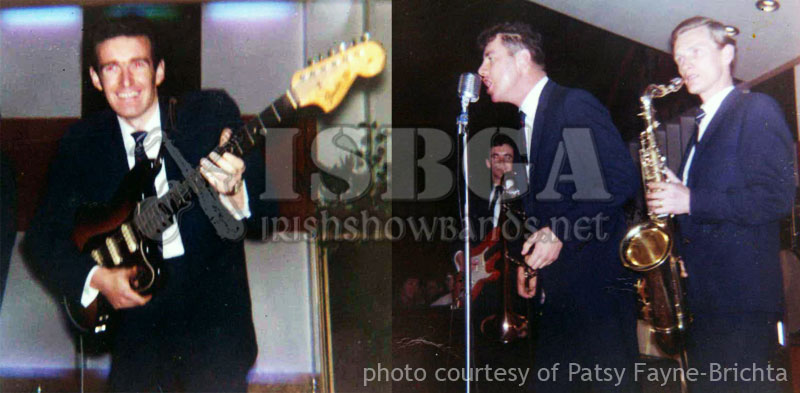 LISTEN TO THE ROYAL SHOWBAND >>>
In the autumn of 1957, Harry Boland's Band was about to break up, so Michael Coppinger decided to enlist a trumpeter, Eddie Sullivan along with Bowyer and form The Royal Showband with some of the lads in the band. Right from the start, the new Waterford showband made a huge impact, and crowds were flocking from far and wide to dance to their infectious music. One of the strengths of The Royal was that there were never any permanent changes to their line-up, though Michael Gilligan (formerly of The Blue Aces) did step in for a time while Jim Conlon completed his studies.
It wasn't long until fate was to play an important card when Jim Conlon was visited by a musical instruments salesman from Cott's of Kilcock. T.J. Byrne went to Waterford in the hope of selling a guitar and came away as the manager of The Royal Showband! Byrne's contacts and enthusiasm soon began to pay dividends. Instead of a straight fee, he introduced percentages, and The Royal were soon taking up to 60% of door-takings. Promoters didn't complain as the crowds were so big that they also did well financially. In 1961, they did a very successful tour of The Mecca Ballroom circuit in Britain and won the prestigious Carl Allen Award as the "Outstanding Modern Danceband of 1961". They finished this tour at Liverpool's Empire Theatre where Brendan Bowyer recalls having a friendly chat with two young lads from the support band. Paul McCartney and John Lennon did quite well afterwards!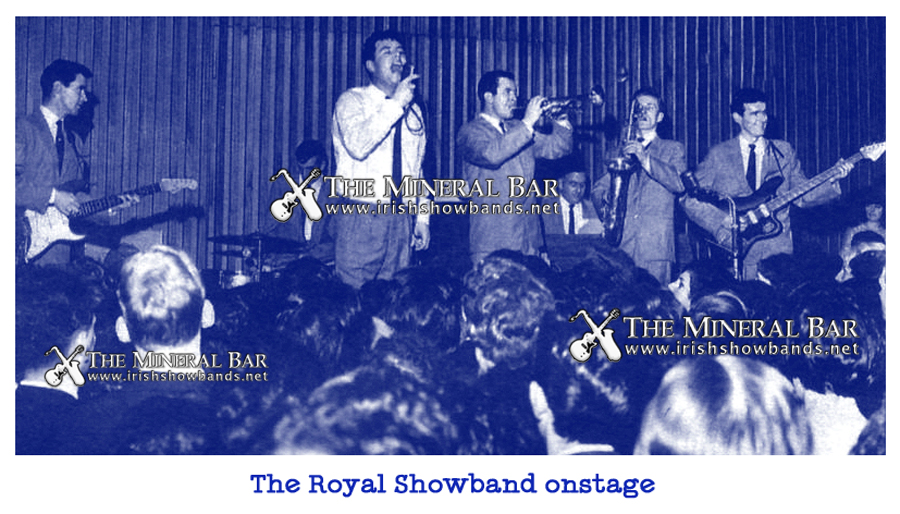 In 1962, their record, "Come Down The Mountain Katie Daly" featuring Tom Dunphy was the first single release by an Irish showband. In September 1963 they topped the Irish charts with "Kiss Me Quick" featuring Brendan Bowyer. Another first for The Royal as this was the first-ever chart-topper from an Irish showband. Six more No.1s followed in the next four years; "No More" (December 1963), "Bless You" (June 1964), "The Hucklebuck / I Ran All The Way Home" (January 1965), "If I Didn't Have A Dime" (March 1965), "Don't Lose Your Hucklebuck Shoes" (September 1965) and "Somewhere My Love" (November 1966). The latter two featured Tom Dunphy and Charlie Matthews respectively.
It wasn't all plain sailing and there were some dramatic incidents along the way. Their bandwagon was broken into on a number of occasions, resulting in the loss of instruments and stage-wear, but one blatant attack in London tops them all. Having played in The Seymour Hall, they had parked their wagon outside their hotel and were having a well-earned rest when a taxi pulled up outside, four men jumped out, poured petrol over the wagon, set fire to it and disappeared into the darkness. Flames engulfed the vehicle and it was totally destroyed as were all their instruments, amplification and stage-gear which were inside. The perpetrators were never found.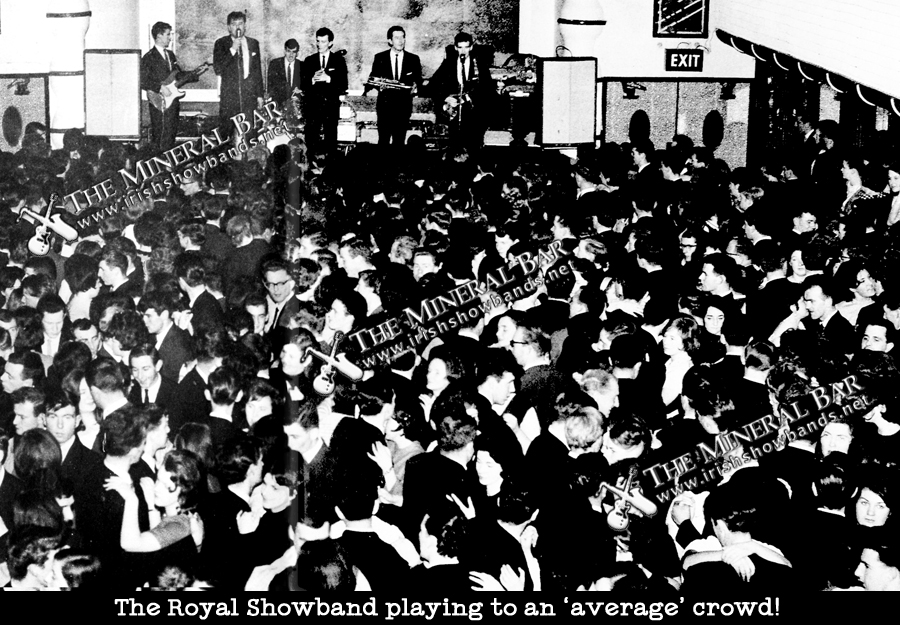 During 1962 they filmed a documentary called "The One-Nighters" and later released an E.P. and and L.P. including songs from the film. In the late '60s, both manager and band foresaw changes in the domestic dancing scene and looking to the future, arranged with impresario Bill Fuller that they would do a season at The Desert Inn and The Stardust in Las Vegas as "The Irish Showband". They still continued to appear at home for six months each year.
Their long-time manager T.J. Byrne parted company with the band in 1967 and took over the reins of a Northern Ireland band called The College Boys. Connie Lynch became manager of The Royal. They continued to play both in Las Vegas and in Ireland until 1971, when Brendan and Tom left to form The Big 8. Replacements were quickly signed, with Lee Lynch, Barbara Dixon and Derrick Mehaffey at various times fronting The New Royal. However, the flame seemingly had gone out, and a once-great band more or less faded away, leaving us all with so many magical memories.
Tom Dunphy died tragically in a car crash in 1975, just two days after three members of The Miami Showband were murdered near Newry. Brendan Bowyer continues to record and perform and some other members still play music in Waterford.
All text on this page is strictly copyright of Irish Bands Archive - it is not to be copied without permission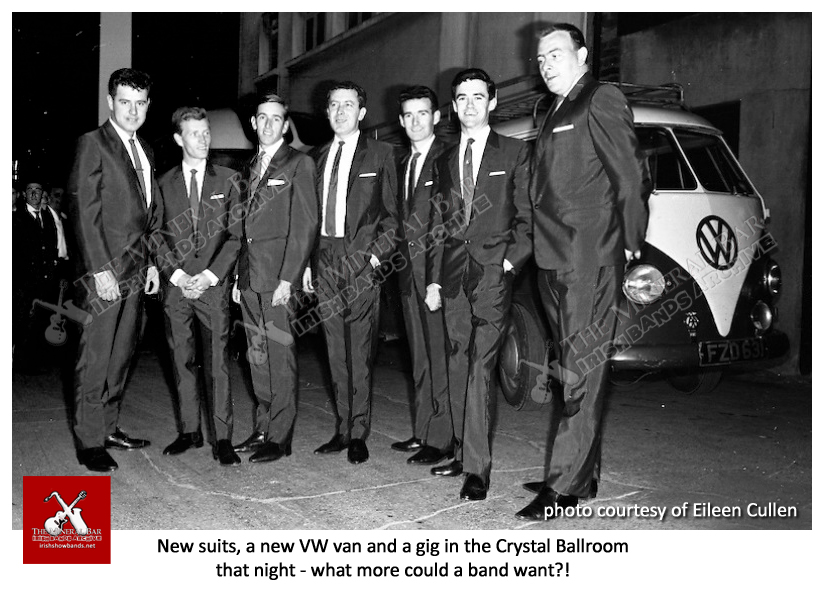 Vocals: Brendan Bowyer, Lee Lynch, Barbara Dixon, Derrick Mehaffey
Guitar: Jim Conlon, Michael Gilligan, Fergus Burke
Bass: Tom Dunphy, Billy Hopkins
Trumpet: Eddie Sullivan, Mike Healy
Sax/Clarinet: Michael Coppinger
Trombone: Brendan Bowyer
Drums: Charlie Matthews
Organ/Piano: Gerry Cullen, Arthur Madden
Manager: T. J. Byrne

Discography

Singles | 45 r.p.m.

His Master's Voice
1962: POP(I)1011 - Come Down The Mountain Katie Daly / I Heard The Bluebird Sing
1962: POP(I)1070 - Marta / Bless Your Heart My Darling
1963: IP1293 - Kiss Me Quick / Love Thee Dearest
1963: IP1294 - Theme From The One Nighters / Goodbye And God Bless You
1963: POP(I)1238 - No More / Fountain Of Love
1964: IP1295 - Bless You (For Being An Angel) / California Sun
1964: POP(I)1377 - I Ran All The Way Home / Hucklebuck
1965: IP1296 - If I Didn't Have A Dime / What Will My Mary Say
1965: IP1301 - Don't Lose Your Hucklebuck Shoes / Hawaiian Wedding Song
1965: POP1444 - She Was You Again / Count Me In
1965: POP1481 - The Wonder Of You / Fun Fun Fun
1966: IP1306 - One Way Street / Everything I Touch Turns To Tears
1966: HPOP(I)1505 - I Know What It's Like (To Have Loved) / My Little Girl
1966: POP(I)1521 - The Fly / Answer Me
1966: IP1304 - I Can't Get You Out Of My Heart / Can I Forget You
1966: IP1305 - Somewhere My Love / Spanish Lace
1967: IP1307 - Time And The River/ Younger Than Springtime
1967: IP1308 - The Rapparee / Whistling Phil McHugh

King
1967: KG1059 - Da Do Run Run / Sitting In The Sun
1967: KG1065 - Look Into My Teardrops / Between The Window and the Phone
1967: KG1066 - The Holy City / Silent Night
1968: KG1078 - Lady Willpower / Woman Woman

Dolphin
1968: DOS19 - Same Old Song / Come On Let's Go

Pye
1970: 7N.17905 - Both Sides Now / My Way
1970: 7N.45024 - Sweet Caroline / Kentucky Woman

Release
1970: RL.547 - 500 Miles / Doc Brown
1972: RL.655 - Stand By Your Man / Me and Bobby Magee / Four and Twenty Hours
1974: RL.710 - Visions / All My Love

Columbia
1971: IDB.797 - No One Can Break A Heart Like You / My Child

E.P:

His Master's Voice
1964: The Royal Showband, Waterford - SEGC.30
A: So Deep Is The Night / From the Bottom of My Heart; B: Dear Waste Basket / C'mon Everybody

L.Ps:
His Master's Voice
1964: HMV 1779 - The One Nighters
1967: HMV 3620 - The Best Of The Royal

King
1968: KGL 4008 - The Stardust Show

Pye Golden Guinea
1970: GSGL 10456 - Ireland Calls

EMI
1976: EMI 1046 - The Royal Showband Story
1962, Locarno Ballroom, Coventry - Admission 6/6

The One Nighters - 1963 | 48 minutes

One of the genuine oddities of the early 1960's, but one which grew out of familiar subject matter and gave a fascinating insight into the 'new' Ireland, was The One-Nighters. The film follows the adventures of the popular Royal Showband on tour, pre-empting Richard Lester's 'A Hard Day's Night' - in its depiction of its subjects as a group of happy-go-lucky 'kids' with hardly defined semi-comic personae.

- Harvey O'Brien, The Real Ireland: Evolution of Ireland in Documentary Film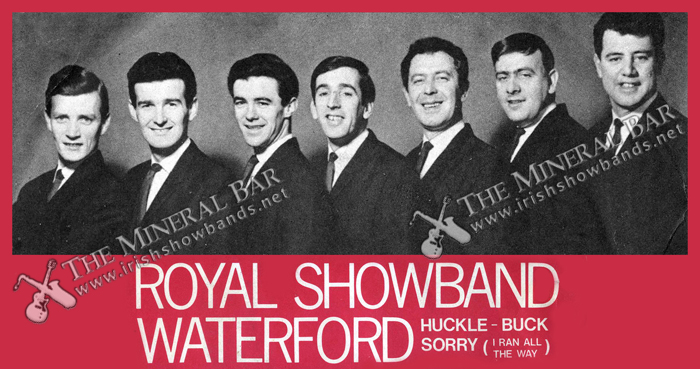 Remembering Jim Conlon: https://www.irelandsown.ie/remembering-jim-conlon-of-the-royal-showband/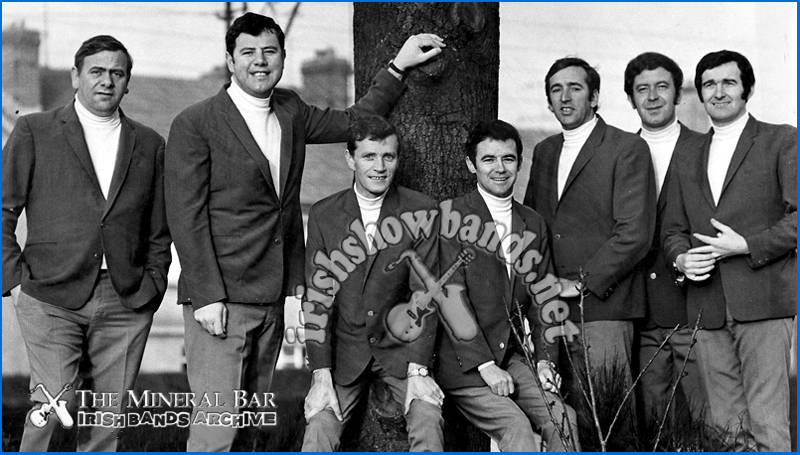 Taken not long before the formation of the Big 8. From left: Gerry Cullen, Brendan Bowyer, Michael Coppinger, Jim Conlon, Charlie Matthews, Eddie Sullivan, Tom Dunphy
Pavilion Theatre, Liverpool 8.00pm, Monday 2 April 1962 (56 years ago) This was The Beatles' only live appearance at the Pavilion Theatre, which was situated on Lodge Lane in Liverpool.

The group shared a bill with the Royal Waterford Showband, who flew in from Ireland for the engagement. The event was promoted by local variety agent Jim Gretty, and was The Beatles' only live appearance at the theatre, known locally as the "Pivvy". They were paid £5 for their appearance.

The Pavilion Theatre was better known as a striptease venue, although The Quarrymen did take part in skiffle contests there in the late 1950s. It was after one such event that drummer Colin Hanton left the group.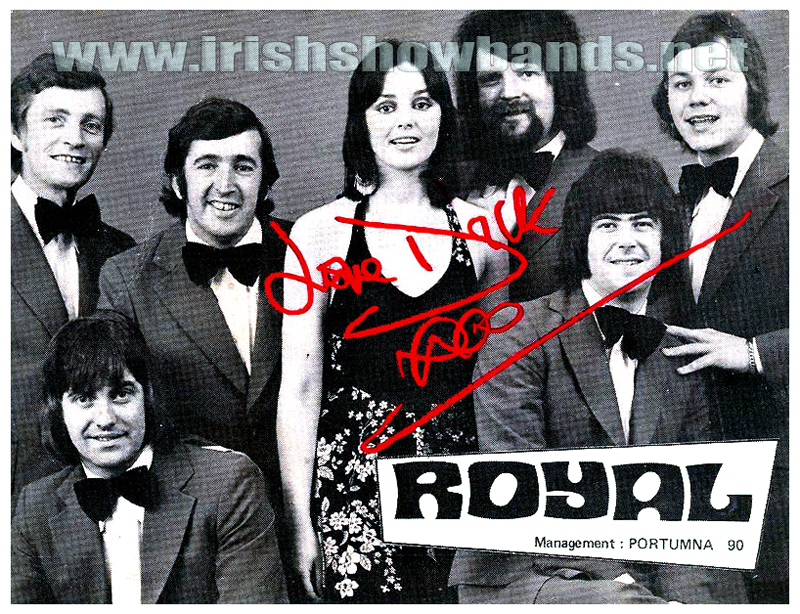 Gateway | Showbands Index | Beat-Groups Index | Ceili bands | Contact IBA
Band photos, cuttings, posters, adverts, line-ups, etc. to be added to the online archive are always welcome and appreciated. If you have anything to contribute, please contact us.
© FBK | 2001-2020