My brother Harry and I were choir boys in the famous Father Moore's Choir in Newry until our voices broke. Our love for music took us to learn to play instruments and into pub groups and relief bands before the showbands. I joined Tracy and the Grassroots in late 1971 on bass guitar and stayed for a year before leaving to join Poteen with Eric Murray (singer who replaced John Farrell in the Dreams), Charlie Arkins from the Nashville Ramblers and Cotton Mill Boys fame on fiddle and some others. When Poteen broke up most of the band formed a pop group called Tomorrow's People playing nightclubs like "Good Time Charlies" in Dublin and Cork etc. Eric left and I got Harry to replace him on vocals.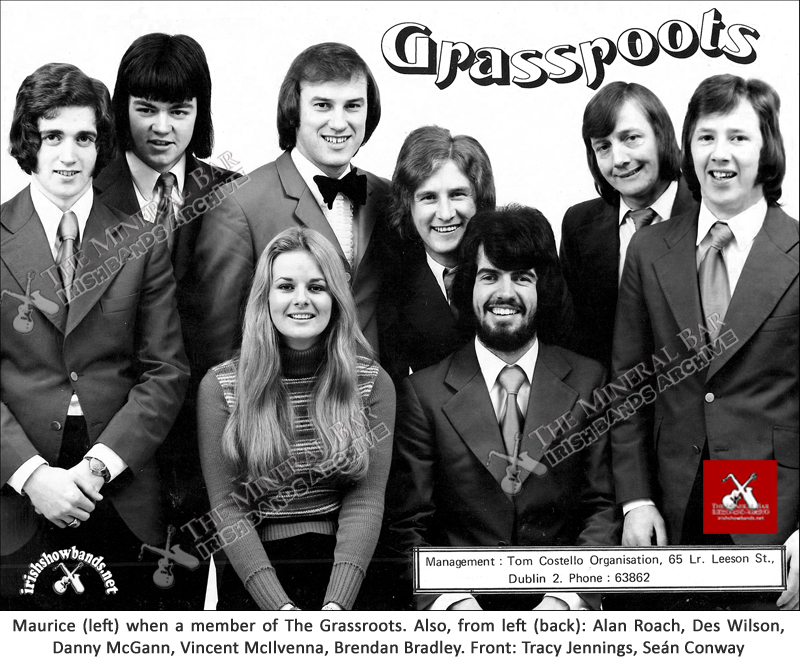 JIM FARLEY
Jim Farley approached myself and Peter Lyons from Manchester who had been drummer in Poteen and Tomorrow's People to join Roly Daniels Band. Harry went on to be guitar/vocalist with The Hootenannys and then with Dermot Henry and The Virginians.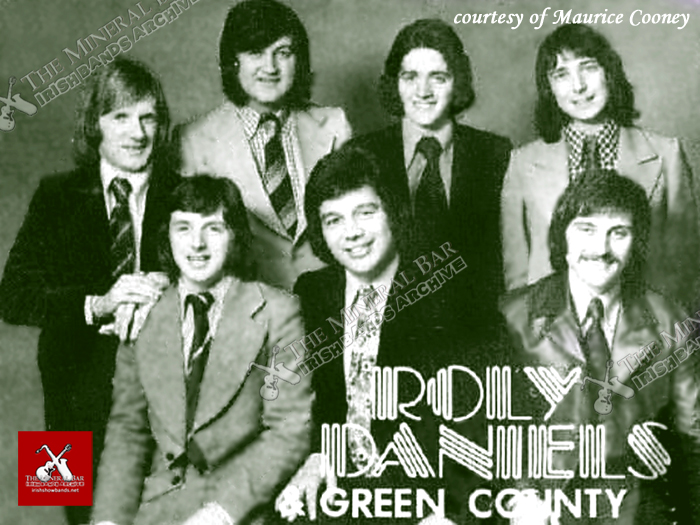 BLOODY MORGAN
John Egan, who was road manager for Green County told me that there was a vacancy for lead singer with Bloody Morgan and the Pirates and he took Harry to Kinnegad where he passed the audition with flying colours and moved to live in Limerick where the band was based. Mick Quinn was manager of Roly, Danny Doyle, the Pacific, the Pirates and Maxi, Dick and Twink among others and was a partner in Green County with Jim and Roly - they also owned Poteen. A small circle eh? Dublin itself too! everyone knew everyone in the Dublin band scene!
RED HURLEY
One night I was in the Revolution Club in Dublin and Julie Boyd of Spotlight magazine told me that Red Hurley was looking for a bass player so I got to the Tara Club where he was rehearsing for his new band with T. J. Byrne as manager. I got the gig without auditioning on the strength of playing with Jim Farley. I played with Red for about a year but left to join a friend to help out for a few months - Brendan Quinn who had formed The Bluebirds.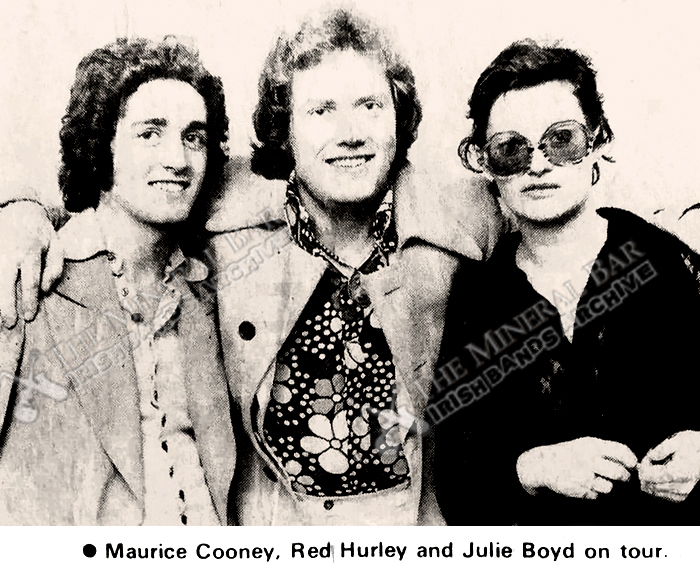 DAZZLE BAND
Aidan Hand then rang me and offered me a job with Cahir O'Doherty and the Dazzle Band which he had formed on the strength of his success in "Jesus Christ Superstar" After about six months Big Jim Farley rang me and asked me to join a band he was putting together to tour Canada (Vancouver etc) and then the circuit in Ireland. We rehearsed and did a few gigs in Ireland to tighten the band up but the Canadian tour fell through and we broke up. As it happened, The Pirates also broke up and Harry and I decided to form our own band Flash.
Read about The Pirates HERE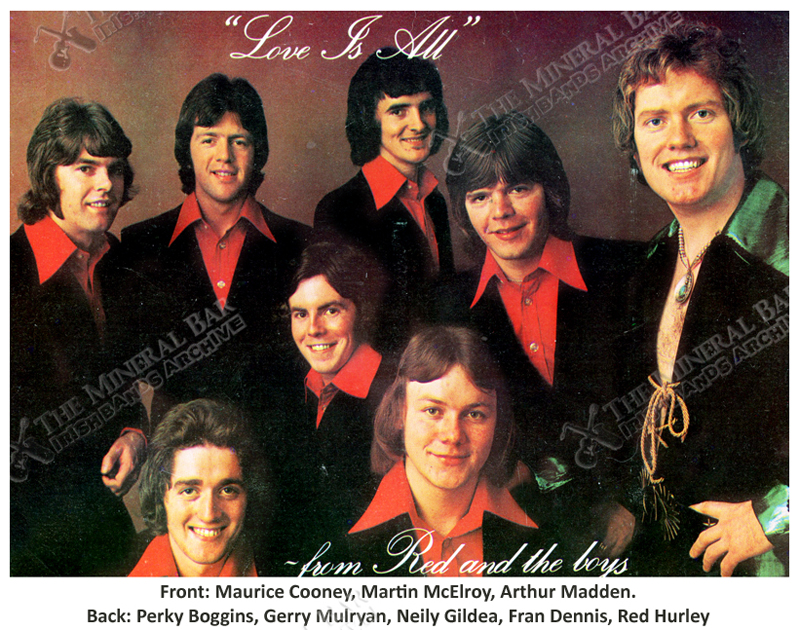 CECIL THOMPSON
Spring 1977 in Newry - both me and my brother Harry back where we started - living with mammy! We drew up a plan to get ourselves on the road. We hadn't got a whole lot of money saved so we went into debt. Cecil Thompson was a dancehall and hotel promoter in Northern Ireland having about 30 venues, many of which Harry and I had played in and he loved Harry as a singer. A 6 ft. tall, handsome rascal who could belt it out; Thomson loved him. "Big fella" he called him. We drove up to Larne in Co.Antrim to his apartment and he proceeded to lift up the mattress and handed us £2,000 in banknotes.
SUPERSOUND
We were able to get a top of the range P.A. system and a second hand Bedford van. "Lets get the job done, we're on the road!" The plan was to gig around the country and to head across the water to Birmingham at the end of summer to audition for "New Faces". In order to get decent sort of money for gigging we called ourselves "The Bloody Morgan Supersound" as we wanted to capitalise on Harry's past as Morgan but were contractually prohibited from using "Bloody Morgan and the Pirates" because it's ownership had been registered in Dublin. In order to get the few grand we had to sign a 5- year contract with Thompson and 25% management fees off the top - c'est last vie.
FLASH
Of course he had to get his initial two grand outlay back also. Anyway we chopped and changed our line-up throughout the summer and headed to Birmingham with 3 of the best musicians around - The late Davy Stuart from The Outlaws on keyboards; on guitar Mick Loughrane from The Crypt (managed by the late Ollie Byrne, later owner of Shelbourne F.C.) and on drums Rick Bleakley from Candy and Lyttle People". Incidentally, Rick's daughter Christine is married to Frank Lampard, manager of Chelsea F.C.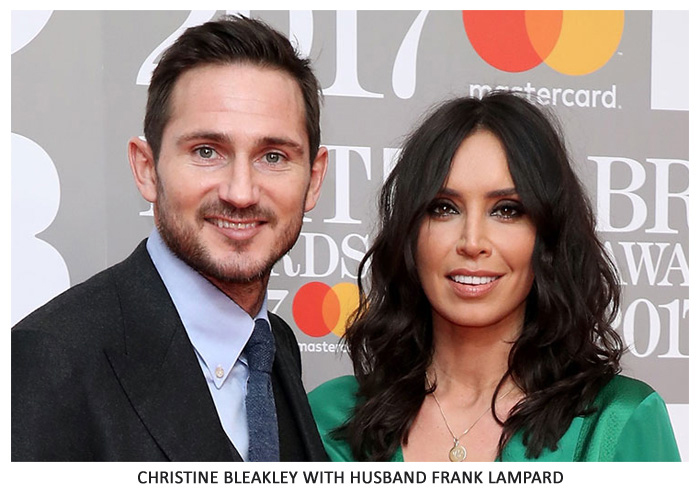 NEW FACES
We arrived in Brum and made our way to The Hippodrome for the auditions. Two weeks later we were informed that we were accepted and that we would be on the show - November 1977. We decided to keep the song we had chosen for the audition for our appearance on "New Faces", A fair few years previously "The Rubettes" had had a massive hit in England with "I Can Do It" a rock 'n' roll song which was also the last number Cahir O'Doherty performed in the Dazzle Band programme when I was with him. It always had the crowd bouncing so we adopted it as our closer in Supersound and later as Flash and of course on TV. Although New Faces was broadcast on ITV and UTV on a Saturday, we had rehearsals on the Monday before and the show was recorded on the Tuesday before broadcast.
The format was that you laid down a few backing tracks (our instruments) on the Tuesday afternoon and chose the best backing track to which we sang live in front of the audience - we sang live to our pre-recorded backing tracks coming through the stage monitors. Timing had to be precise obviously. There was a panel of four expert celebrity judges and three categories, presentation, content and star quality, each with a possible 10 points. Out of the maximum 120 points we received 112 with the arch-critic Tony Hatch who had written the theme song for the soap opera "Crossroads" and many top chart hits for Petula Clark amongst others giving us two tens and a nine out of 30!
CARNABY STREET
Next move was down to London to get measured for new stage clothes. Colin Wilde was a top fashion designer to the stars in Carnaby Street. Red Hurley had used him when I was with him as did many of the top Irish showbands - dress suits, cat suits, whatever. When you were doing the Irish ballroom circuit in England, many bands co-incided their tour with a visit to Colin; that was if you could afford him - the flamboyant Colin wasn't cheap.
We won it - the first and only Irish band north or south to ever win New Faces. Having known we had won the show on Tuesday night, we had to keep the result a secret until the broadcast on Saturday night excepting close family of course who were sworn to secrecy - not easy I can tell you especially as we were back in Newry via London where we had a gig and another visit to Colin Wilde for a fitting for more new clothes as we had decided to go leather gear for the Christmas Eve Special.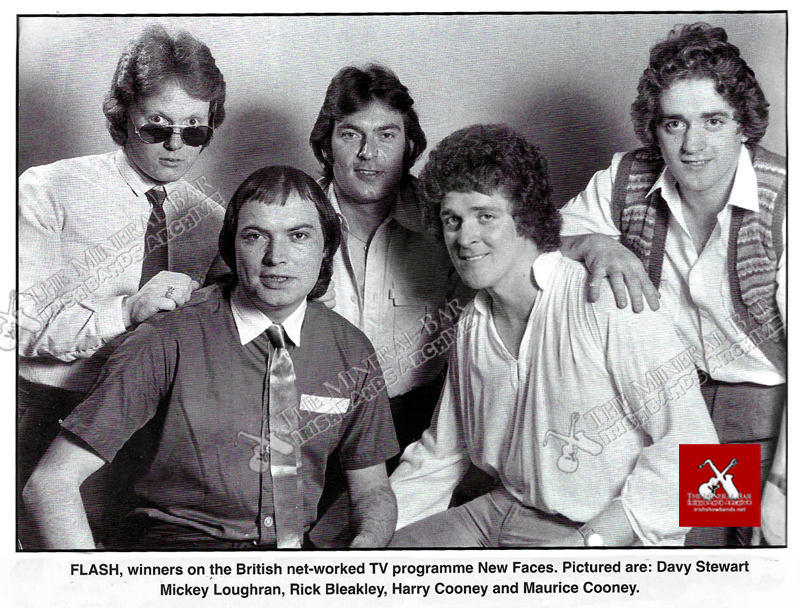 SPLASH THE MONEY!
We came back to Ireland and the money was rolling in. We employed two roadies, invested in a new massive sound system, a 30,000 watt lighting system, a new van for the equipment and a Jaguar XJ6 for the band to travel in - twin petrol tanks, 16 miles to the gallon - that's the stuff, had to be done - a bit of luxury, eh!
Times were good and it wasn't long before we were back over in Birmingham for the New Faces Christmas Eve Special which showcased all the winners of Series 6. The Grand Final was won in the New Year by English soul singer Patti Boulaye.
THE SWEAT
The first few years on the road went smoothly then our drummer Rick and the late Davy were poached from us to join a band called "The Sweat" based in Coleraine. Their main man bassist and writer had secured a record deal from Double Dee Records in England owned by Dave Dee of "Dave Dee, Dozy, Beaky, Mick and Tich" fame. They charted top twenty in England and appeared on Top of The Pops with their hit "Why Did You Have To Lie". As it happens, as you can see by the photo with Billy they came back to us!
We came on the scene well past the hey days of the band scene in Ireland:discos were getting popular and cheaper to a proprietor. ITV and UTV were not shown in over half the counties in Ireland and as such in Munster, Connacht and the majority of Leinster - a new group like Flash, even though we had won a massive talent show like New Faces, did not get the exposure we could have had a few years later, a time when RTE had no opposition on the airwaves in Éire; subsequently our television exposure was limited.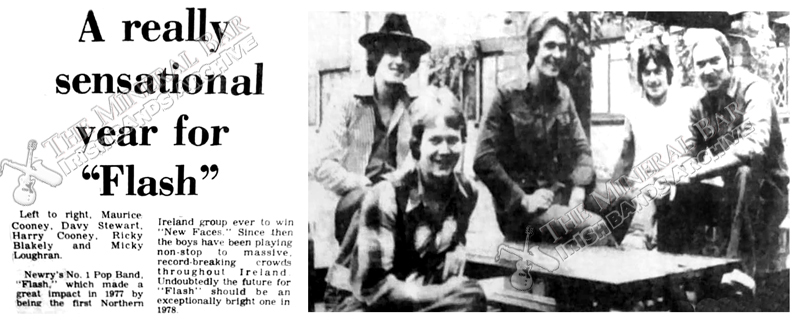 BILLY BROWN
But we motored on and then came a chance meeting with Billy Brown whom I hadn't seen for a while. We went for a few jars and discussed an idea Harry and I had of doing a cover version of the Foundations hit "Build Me Up Buttercup ". Billy thought it was the business, a brilliant idea. "Magic" that was one of his favourite expressions. He had his own office in Lombard Street producing records et al for Ritz Records; he set up recording time for us.
IN THE STUDIO
A few weeks later we get the band together in the studio. Billy has an idea for a big sax sound so he has got top session man Richie Buckley down. To get this sound he has himself on baritone sax and Richie on tenor and they are both in the studio toilets next to the main recording studio belting it out to get the desired effect. It worked, the man was a genius. Billy's pal Rod Thear, who had engineered on some Rolling Stones albums, he had microphones in there. We spent quite a few hours and days there as Billy was a perfectionist and we were all happy with the result.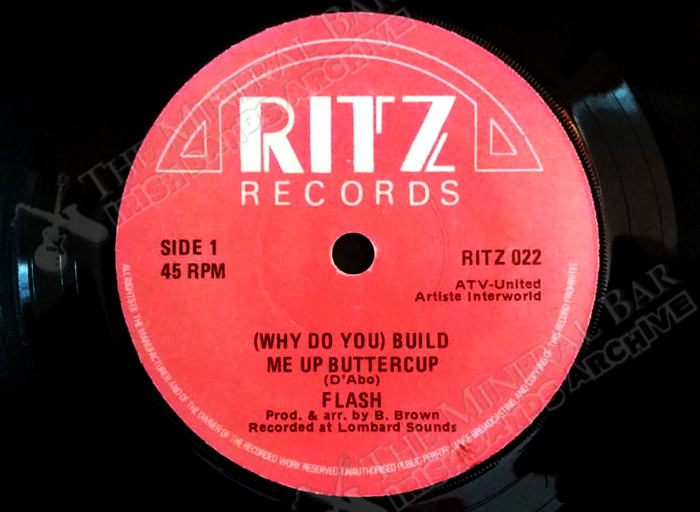 BILLY BROWN JOINS FLASH!
Meanwhile we were gigging away as a 5-piece and he came to see us a few times. After a gig in Bray one night he told us he would like to join the band and of course we were delighted and we organised the release of "Buttercup" to coincide with him joining us. Billy's friend Kevin Haugh gave us plenty of airplay on his RTE radio afternoon show and we were on the road. Some crack with that man I'm telling you, some stories although he could lay it on a bit! Sometimes we would rehearse before gigs and others he would come up to Newry where we were based and he would stay in my mother's house. We became close friends with me sometimes staying at his place in Johnstown a few miles north of Naas.
THIS MEANS LISTEN! >>>>>
A NEW LEASE OF LIFE
'Twas a new lease of life on the road for Billy and a real lift for us too. He added so much from his sax and piano input. He had one of those old battered Wurlitzers its unique sound reminiscent of Supertramp's "Dreamer" from "Crime of the Century" in the '70s. Then there was his range of harmonies which we fitted in easily with (former choir boys) - steady now lads musically wise! No bother to him from that deep down low baritone to falsetto. Billy had no problem being in the background as he loved to be part of the unit and besides he knew Harry was a proper lead singer and front man.
This was around 1981/'82 and an example of some of our programme was - Smokey Robinson's "Being With You", "Eye of the Tiger (Survivor); Foreigner's 'Waiting For A Girl Like You' (Foreigner); 'Young Turks' (Rod Stewart); 'Poison Arrow' (ABC); 'Can't Go For That (No Can Do)' by Hall and Oates; 'Abracadabra' (Steve Millar Band) and of course our single 'Build Me Up Buttercup' together with a few Freshmen songs especially 'Carpet Man'. What a buzz to be singing harmonies in that one as Billy had been an musical idol of ours and now we were performing together and were friends.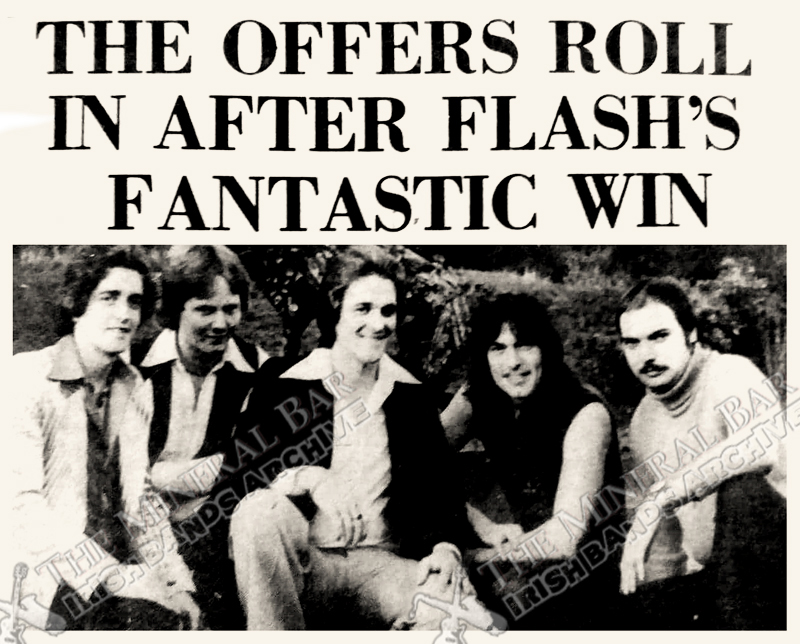 EPILOGUE
Time meanders on like an autumn day! I haven't lifted up an instrument for 37 years unlike my brother Harry who until the pandemic has been playing a few gigs a week with his band Taxi. They won the top UTV talent show Entertainer of the Year a year or so after Flash broke up. Taxi toured for many years in Qatar and Bahrain in the Middle East. In 1982, Harry with a young family was offered a job with Dunnes Stores as a haulage contractor (hardware and clothes) eventually being their main man in the North of Ireland with 20 lorries on the road.
I went into bar and nightclub management in Jersey in the Channel Islands ending up running The Inn on The Park, the biggest entertainment complex on the Island. But like many, I hark back to the days of learning the banjo mandolin, the G Banjo, the guitar and eventually the bass with which I earned my living for quite a few years. There are regrets like not having appreciated the beautiful scenery as we travelled throughout Ireland - we were young lads making a living never looking out the window really or taking it in more like but on a more positive note there were all those fantastic people we met along the way especially the characters who kept you amused on the long journeys home.
And to finish off, through my connection with Louis Walsh, in The Inn on the Park in Jersey, I gave Boyzone their first big international gig just after they had a hit with the Osmonds' "Love Me For A Reason".
© Maurice Cooney 2020